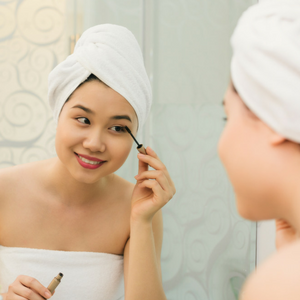 Makeup Tips for Women Over 40: Lipstick, Eyeliner, Eyeshadow & Mascara
I cringe whenever a trend comes out that has 17-year-old models in bright red lipstick and no eye makeup, or about an inch of black eyeliner under their eyes and no lipstick.
You can't replicate that look on a woman over 40, no matter how beautiful she is.
Instead of trying to imitate the latest makeup trend, stick to wearable, stylish looks that emphasize the brilliant, talented and articulate person you are!
In my previous post about makeup tips for the over 40 crowd, we talked about how to prepare the skin properly, and then accentuate your skin and bone structure using the right combination of foundation, concealer and blush.
Today, we're going to talk about the finishing touches – lips & eyes!
Lipstick:  XXXX
Doing makeup is like being an architect. All the pieces should work well together.
When you're planning which makeup to wear, start by asking yourself whether you want to focus on your lips or your eyes.  To help me decide, I choose a lipstick shade first. The stronger my lipstick, the softer I go on the eyes and vice versa.
There is an overwhelming array of lipstick options: sheer, matte, tone, frost, glaze, etc. Plus, there are lip primers, conditioners and plumpers. It's up to you to determine what works best for you and how much money you want to spend.
Usually, I apply the texture of lipstick that goes best with the individual's personality and lifestyle.  If you're like me and eat your lipstick off in about an hour, then try a matte texture. Matte lipsticks are more likely to stay put, but the tradeoff is they can be drying.
After applying lipstick, use a lip liner to create a polished frame for the lip color. The finish will have a less 'lined' appearance and look more natural.
As a rule, match your lip liner to your lipstick, or go slightly darker. Lip liner helps keep lipstick from spreading.  It also makes your lips appear larger and more defined.
If the occasion calls for it, toss on lip gloss.
A word about color choice.  If you are wearing a bright red shirt, go with a warm lipstick that has an undertone of the shirt color, such as a muted brown. The idea is not to have your lipstick compete with a brightly colored shirt or dress. If you are wearing gray or black, a brighter lip color may be in order.
Eyes: The Final Frontier
Eyes can be complicated, which is why so many of us just toss on mascara and call it good. Even for me, with my piles of products and color options, I often do nothing.
Truth is, eyes aren't so challenging once you know a few tricks and have the proper tools.
The perfect neutral eyeshadow color for you
Start by picking an eyeshadow that will enhance your eye color. If you have green eyes, pick a purple shade. For blue eyes, try gray or cobalt. Brown eyes are the most versatile because you can use any color you like and it'll look great. Warm chocolate brown is a fabulous shade that goes with nearly any eye color.
As we age, stick with muted, subtle eye shadows. Frosted or glittery shadows should be used sparingly on women over 40 because shimmer can highlight wrinkles and imperfections.
Choose a lid color that's only slightly lighter than your skin, and a crease color that's one to two shades darker than your skin.
Using a soft brush, put your base color all over the lid and add the darker color along the crease. You can add more to the crease area to add density and shape, if needed.
TRY IT:  Bobbi Brown Essentials
It's all about the eyeliner
Use eyeliner, not eyeshadow, to brighten and enhance your eyes.
Sharpen your waterproof eyeliner pencil and apply it between the upper lashes to make your eye stand out. To do this, slightly pull on the outside edge of your eye and make little dashes of eye pencil color right at the eyelash line. Look down your nose into the mirror to better see your progress as you move toward the inside corner of the eye.
Be sure you draw your line from one end of the eye to the other. Stopping short will create a smaller eye. Also, make the line that's closer to the nose narrower than the line at the outside of the eye. This may sound impossible at first, but with a little practice it's well worth the effort.
People with epicanthic folds should draw an inverted V over their top lashes using the same technique, making the top of the V in the middle of the eye area.
To soften liner, use a smaller, narrow brush to blend a similar shadow color on top of the liner. This smudging technique will open the eyes.  It's also a more forgiving look if you haven't applied the liner perfectly.
If you can manage it, take a waterproof eyeliner pencil and run it underneath your lashes, in what we call the tight-line or water line. I only recommend doing this under the top lashes and not the bottom because it can look overdone and narrow the eye.  Tight-lining is an easy trick that immediately brightens up your eyes.
Great mascara makes everything better
Your last and final step should be to coat the top lashes from tip to tip with mascara. In most cases, skip putting mascara on the bottom lashes.
For fuller lashes, add a second coating of mascara, but be sure to use eye makeup remover to take off mascara before bedtime.
If your mascara runs or smudges, try a waterproof version.
Stay tuned for Suzanne's next post where she'll talk about how to apply makeup in a snap, so you can always look fabulous doing the things you love, even when your short on time!
______________________________________________________________________
About the Author:
Suzanne Blons is The Beauty Shaman and works as a professional makeup, hair, wardrobe stylist and snarky beauty blogger in Colorado. Check out her website at www.suzanneblonsmakeup.com!
About NuGlow Skincare:
NuGlow is an affordable skincare line of high-quality anti-aging products sold directly to consumers. Our lead product line contains the patent-pending MD3 Copper® peptide complex, which delivers copper deep within the skin's surface, making it appear visibly fresher and firmer. Clinical study results* of NuGlow Serum show that women using MD3 Copper® experience significant improvement in their skin's appearance within weeks! NuGlow offers an unconditional 60-day guarantee, so give it a try! Order today at www.buynuglow.com.