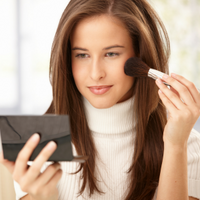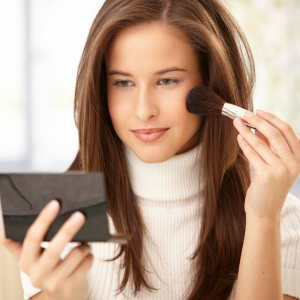 Makeup Tips for Women Over 40: Skincare, Foundation, Concealer & Bronzer
It's been said that the longest 10 years of a woman's life is from ages 39 to 40, and I must agree, although 49 to 50 has its challenges as well.
I can't wear bright red lipstick anymore without looking like I drank too much for breakfast.  Nor can I make up my eyes in the "smoky" look without looking like someone punched me.
It goes along with not being able to stay up all night at your brother's Super Bowl party or wear high heel shoes all day. Your body says, "Honey, it's over. Buy flats."
This begs the question: how do we continue to look fabulous over 40 without looking like we're trying too hard?
Darlings, don't worry, help is on the way!
Beautiful, Healthy Skin Starts With Great Skincare
As a professional makeup artist, my clientele are primarily men and women who go in front of television cameras.  In the world of HD, that means every line and bump shows up!
Smooth, flawless skin starts with properly preparing and moisturizing your skin before applying makeup.
Begin by cleansing your skin to remove excess oil, sweat and dirt.
Don't use soap to clean your skin.  It dehydrates and strips your skin, even if you're using a decent moisturizer. Instead, find a gentle cleanser that cleans your face without being harsh.
Many of us had oily skin in our younger years and we were programmed to use abrasive products that kept oil and blemishes at bay, but those days are gone when you're over 40! Plus, plump moisturized skin keeps dirt, sweat and makeup out, meaning fewer breakouts.
So, ladies, even if you have oily skin, don't use anything harsh on your skin because it can enhance fine lines and intensify the signs of aging.
Once your skin is clean, hydrate it using a combination of serums and moisturizers.
Makeup looks awful on dry skin, so putting foundation on dehydrated or exhausted skin is futile.  Find a great anti-aging serum and hydrating moisturizer to soften lines and make the skin supple, even if you have oily skin.  A twice-daily application will do wonders for your skin and how it looks with foundation.
And always remember to wear sunscreen.  It's the most important thing you can do to protect your skin from premature aging!
TRY IT:  NuGlow offers a full line of anti-aging skincare products that are designed to help you look and feel your best.  Shop by skin type on their website. 
The Dirty Truth About Foundation
Women going on camera walk into the greenroom, where I do their makeup, with enough foundation to paint a mural.
Many women over 40 think that more is better, especially when they're trying to hide age spots and wrinkles.
Not true!  The more you try and hide your skin's imperfections, the more pronounced they are.
Once they're in my makeup chair, I end up removing most of what they've applied and replacing it with a lightweight product that enhances their look without detracting from their natural beauty.
That's the trouble, isn't it?  We try to hide what we don't like! That might work with hip size, but not so much with fine lines.
Instead, go for a liquid foundation with low-to-medium coverage and use it only where you need it, namely in the T-zone of your face.
TRY IT: Chanel Vitalumière Aqua
Focus on highlighting your cheekbones, lips, or even eyebrows, rather than covering your face completely with foundation.
Concealer: Best friend or Worst Enemy?
Okay, all of us over 40 need to conceal a little, but under-eye concealer is a much denser product than foundation and needs to be used with care.
Start with an eye cream to help diminish puffiness, darkness, and dryness.  It will help diminish the signs of aging and make the makeup sit better on the skin.
Then, use your ring finger to roll small amounts of the concealer cream into the inner socket of your eye, and only take it under the eye area if there is discoloration.
TRY IT:  Laura Mercier Secret Concealer
Remember that lighter "brings out" and darker recedes.  So, if you struggle with puffiness under your eyes, a concealer lighter than your skin tone will make it stand out more.
Experiment with using as little concealer as possible in the socket while achieving the results you want.
Bronzer: "Oh my God, is that dirt on your face?"
Bronzer is very popular these days, but it is its own weird minefield. Done poorly, it looks like dirt, so go easy on the bronzer. Find a shade that matches the color of your breastbone where the sun hits.
TRY IT:  Bobbi Brown Bronzing Powder
Then, and this is the tricky part, use it sparingly under your cheekbones, jawbone, and in the highest points of your forehead and temples. The idea is to add dimension and framing to your face, not necessarily look like you just returned from Barbados. You know the crazy lady who has an orange face and pale body? If you misuse bronzer, that will be you.
I go for a natural and soft look on clients and tend to add color using blush, not necessarily bronzer.
Blush:  Color, Ladies!
As we age, the color in our skin tends to diminish, and therefore needs a pick-me-up.
To choose a blush, I start with hair color, wardrobe, and style.
For example, if a redheaded woman sits in my chair, I'm going to go with a warm, peachy shade, unless she is wearing bright pink and wants to look more colorful. Should a blonde sit down wearing red, I would use peach, but if she were wearing pink I would go for a cooler rosy tone. Brunettes usually wear a cooler blush, but if they have copper highlights in their hair, I might go for peachy.
You should own two blush colors, a warm and a cool tone for whatever wardrobe you're wearing.
TRY IT:  MAC Cosmetics Crèmeblend Blush
Lipstick, for me, follows blush color. A cool blush invites a cool, pinky lipstick and vice versa. There are always exceptions to this, but it's a good rule of thumb.
Stay tuned for Part Two of this series on makeup tips for women over 40, in which Suzanne will talk about lipstick, eyeliner, shadow, and mascara!
______________________________________________________________________
About the Author:
Suzanne Blons is The Beauty Shaman and works as a professional makeup, hair, wardrobe stylist and snarky beauty blogger in Colorado.
Check out her website at www.suzanneblonsmakeup.com!
About NuGlow Skincare:
NuGlow is an affordable skincare line of high-quality anti-aging products sold directly to consumers. Our lead product line contains the patent-pending MD3 Copper® peptide complex, which delivers copper deep within the skin's surface, making it appear visibly fresher and firmer. Clinical study results* of NuGlow Serum show that women using MD3 Copper® experience significant improvement in their skin's appearance within weeks! NuGlow offers an unconditional 60-day guarantee, so give it a try! Order today at www.buynuglow.com.