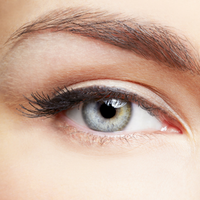 Learn How to Do Eye Makeup Like a Pro Using These Five Tips
"I can't do my eye makeup," said the attractive woman in my makeup chair with a groan, as she slumped down and let her high heel shoe fall off and hit the floor. She could run a successful company, raise 3 children, and teach a slamming yoga class to leave you breathless, but thought she couldn't do her eye makeup.
"I've tried and tried but it just takes too long and I can't get the liner to go straight or look normal. I've nearly given up," she continued, letting the other shoe flop on the floor with a thud. "My mascara ends up down my face, my eye shadow disappears, and by 3pm I look like I just got out of bed!"
"I've seen this despondent look before," I replied with a concerned expression. Handing her my silver mirror, I said, "When you leave here you will know how to make up your eyes like a badass."
So, here are my five basic guidelines to achieving a great look with eye makeup:
Skin Preparation Is Key to Dealing with Puffiness, Dryness & Oily Lids
The eye area is unique and often behaves very differently than the rest of your face. For example, your skin could be oily, yet dry around your eye socket.  Or maybe your lid is so oily that makeup just runs off it.
If you put makeup on dry skin around your eyes, it will highlight fine lines and bring attention to the very things you are trying to cover! And, if your lids are oily, the makeup won't stay put.
The important thing is to find an eye cream that best suits your skincare needs and use it faithfully to keep your skin hydrated and looking supple.
TRY THIS: NuGlow Eye Therapy
For oily lids, skip the eye cream on the lid area and try an eyelid primer instead.  An eyelid primer will keep the oil at bay and help your makeup stay on all day. Put a thin line of eye base under the eye as well.  It'll keep makeup from running beneath your eyes.
TRY THIS: Lancôme Waterproof Eyeshadow Primer 
Conceal Dark Circles Without Highlighting Your Imperfections
Once your eyes are hydrated, start with some foundation in your T-zone. Apply it around the eye area including over your eye (unless you have oily lids) and in the socket, next to your tear duct. If you have only a little darkness in the under-eye area, then try adding a second layer of foundation to cover it instead of using concealer.
Should you decide to use concealer, don't put it all the way under your eye. Instead, gently apply a small amount of concealer using your ring finger to the areas where you see discoloration. Generally, you need concealer in the eye socket, next to the tear duct, and only about a half moon shape under your eye.
Too much product will highlight wrinkles and make your eyes look puffier than they are!  Stick to using only what you need to conceal the dark circles!
Eyebrows Frame Your Face
Create a more polished look by accentuating your eyebrows – either by filling them in or changing their shape.
To figure out the proper shape for your brows, take an eye shadow brush and angle it so that it hits the outer edge of your nose to the outer edge of your eye. The end of the brush will be where your eyebrows should end. Using the same brush, angle it straight up from the outside of your nose to your eyebrows and this is where the brows should begin. The highest point of your brow should be directly above your iris.
Gently fill in your eyebrows using a thin brush and matching eye shadow color. Pay attention to the correct shaping and adjust accordingly.
TRY THIS: Anastasia for Eyebrows
If you prefer an eyebrow pencil, be sure that it doesn't slide south due to oily skin or hot weather. Pencils are made of wax and can melt!
Smudge Eyeliner for a Softer Look
As we progress in years, a sharp line over the eye doesn't serve us as well as it did in our 20s and 30s. Instead, you can create a softer, more forgiving look by smudging the top eyeliner with a matching eye shadow.
Choose a waterproof pencil to keep the color from bleeding. Put it directly underneath the top lashes in the waterline. Avoid the bottom lashes. It can accentuate dark circles. And, if your makeup runs easily, avoid putting anything on the lower lash line.
Next, take your eye pencil and put small dashes between your upper lashes moving from tip to tip. It helps if you lightly pull at the corner of your eye to make the skin a bit tighter, but only a little! Try to make the liner a bit thicker on the outer edge, and thinner on the inside. It doesn't matter if it isn't perfect because you'll soften it with shadow.
Then, take a slightly thicker brush, and using a back and forth motion, put a matching eye shadow on top of the liner.  Avoid putting too much on the inside of your eye. The denser the brush the easier this will be. If you have medium to large eyelids, you can blend the line to about halfway across your lid, and if you have small lids, try to keep the shadow as close to the lash line as possible.
Color Your Lids & Crease Before Finishing with Mascara
Choose a crease color one or two shades darker than your skin tone. To apply, take a crease brush and lightly make a windshield wiper motion in the crease of your eye, being careful to blend it onto the brow bone.
Then take a shade one to two shades lighter than your skin tone and plop a small amount in the center of your eyelid.
TRY THIS: Chanel Eye Shadow 
A lot of women ask me which they should apply first when doing their eye makeup. You can place this color all over your lid before you do eyeliner and the crease color, but often I find it's just as simple to put on a little bit after you're finished.
Last, but not least, go for your favorite mascara and put it on the top lashes. Leave the bottom lashes alone if mascara runs on you, or try a waterproof blend.
Brushes Matter
Splurge for good eye makeup brushes. It makes all the difference in getting the color where you want it with the appropriate density. If you take care of them properly, most brushes can last over 15-20 years so it's worth the investment.
TRY THIS: MAC Makeup Brushes
Want to learn more about how to use makeup to enhance your natural beauty?  Comment below and tell us what you're interested in learning about!
______________________________________________________________________
About the Author:
Suzanne Blons is The Beauty Shaman and works as a professional makeup, hair, wardrobe stylist and snarky beauty blogger in Colorado. Check out her website at www.suzanneblonsmakeup.com!
About NuGlow Skincare:
NuGlow is an affordable skincare line of high-quality anti-aging products sold directly to consumers. Our lead product line contains the patent-pending MD3 Copper® peptide complex, which delivers copper deep within the skin's surface, making it appear visibly fresher and firmer. Clinical study results* of NuGlow Serum show that women using MD3 Copper® experience significant improvement in their skin's appearance within weeks! NuGlow offers an unconditional 60-day guarantee, so give it a try! Order today at www.buynuglow.com.