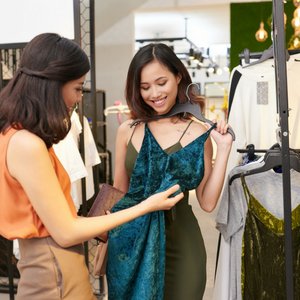 Must-Have Fall Fashion Trends
As temperatures begin to cool and the leaves change color, many of us reach for our winter wardrobe only to realize it's in desperate need of updating. But, how do you stay on top of the current fashion trends without having to rebuild your wardrobe from scratch each season?
First, start with a classic wardrobe of quality pieces that are comfortable, versatile, and most importantly, fit!
Learn More: 10 Essential Wardrobe Basics for Busy Women
Then, integrate this year's hottest fall fashion trends into your wardrobe with a few key pieces. That way you can easily achieve the look you want without overhauling your entire closet or breaking the bank.
Here are my top five favorite fall fashion trends:
Circle Sunglasses
Many of us tend to dress in darker shades during cooler weather, but vibrant colors were all over the fall fashion runways, along with circle sunglasses. Combine these two looks and liven up your wardrobe by adding a pop of color with your glasses.
Crap Eyewear has created the ideal pair with an updated retro feel. At $62, the Love Tempo design is affordable, durable and chic! Plus, these glasses comes in six colors.
Try wearing the Gloss Oxblood & Brown Tortoise frames with an oversized blue scarf around your neck and red lipstick for extra pizzazz.
Sock Boots
The ankle boot is still very popular this season. But, why not try an updated version and put some color on your feet? Check out the Sock Boot at H&M for $59.99. It comes in a fantastic bright red that looks stunning with long skirts, coats, and ankle trousers.
Pair these shoes with an equally bright handbag in a complementary color and you'll be right on target with the color palette being shown by designers this year.
Velvet
Rich velvet in saturated colors was all over the fall fashion shows. Designers love it because it's a durable luxury fabric that has a ton of texture and a hint of decadence.
Try a velvet dress like Banana Republic's Heritage Velvet Deep-Vee Dress in pale pink for $148. Pair it with a long-sleeved shirt, ankle boots, and a cozy jacket for any gathering.
And don't forget velvet tracksuits by Juicy Couture! Once you don one, you'll never go back to regular sweats.
Blazer
Boxy-shouldered blazers aren't just a thing of the past anymore. They're making a comeback and being paired with anything from jeans to skirts.
Wear it in place of a jacket on cooler days when you want to cover up but still look stylish.
Top Shop has a ruched sleeve blazer in pink on sale for $60. Usually, we think of pink as a spring and summer color, but it's making its way into fall fashion with panache.
Pair your pink blazer with a skirt and an untucked button-down shirt. It's the perfect combo – comfort and style!
Patent Leather
Shiny jackets, pants, and shoes are everywhere this season. Try a patent leather jack with a high-collared shirt, fitted jeans, and heels. Cinch the waist of your jacket with a wide belt for an even more stylized throwback look.
You can also get the shine without the price tag by opting for a more affordable version, such as Topshop's Vinyl Hooded Rain Mac for $85.
If the shiny jacket is too much glamour for you, try a pair of patent leather shoes or boots instead.
Spruce up your fall wardrobe with bright colors and comfy velvet fabrics, and look fabulous as you cuddle by the fire with a cup of hot cocoa.
Want to learn more? Check out Suzanne's previous post on wardrobe essentials, 10 Essential Wardrobe Basics for Busy Women.
______________________________________________________________________
About the Author:
Suzanne Blons is The Beauty Shaman and works as a professional makeup, hair, wardrobe stylist and snarky beauty blogger in Colorado. Check out her website at www.suzanneblonsmakeup.com!
About NuGlow Skincare:
NuGlow is an affordable skincare line of high-quality anti-aging products sold directly to consumers. Our lead product line contains the patent-pending MD3 Copper® peptide complex, which delivers copper deep within the skin's surface, making it appear visibly fresher and firmer. Clinical study results* of NuGlow Serum show that women using MD3 Copper® experience significant improvement in their skin's appearance within weeks! NuGlow offers an unconditional 60-day guarantee, so give it a try! Order today at www.buynuglow.com.