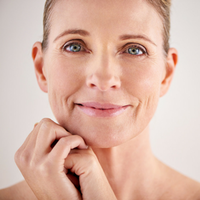 Menopause & Your Skin: What Happens & What You Can Do About It
Menopause. It can start when you're in your forties, or wait until your late fifties. It will often surprise you with a hot flash, or creep in at midnight when you can't sleep or have little interest in sex. It also, often, coincides with other major life challenges.
On a physiological level, menopause involves the loss of estrogen, a critical component to healthy skin. Skin becomes more prone to sun damage, age spots, and thinning. But that's not all.
Because estrogen stimulates fat deposits, without it, weight redistributes itself, often in the waist or thighs and buttocks. Wrinkles appear and breasts begin to sag.
Additionally, while estrogen levels drop, androgens such as testosterone stay constant and can trigger facial hair and blemishes reminiscent of your teen years.
What can you expect to happen during menopause? See the stages below.
The Stages of Menopause
Menopause is not just one stage. In fact, it has three stages, each with specific physiological challenges, according to the National Institute on Aging.
Peri-menopause starts several years before your last period. This is when estrogen and progesterone levels begin to change. Menopausal symptoms may start to appear. Also, smoking or a hysterectomy can trigger early menopause
Menopause begins when your last period ends. The average age is 51, although some women experience it earlier and others later. This is when menopausal symptoms are triggered. Those symptoms can be mild or severe, depending on the individual.
Post-Menopause begins one year after your last period and continues for the rest of your life. And while hot flashes and issues related to your periods disappear, other symptoms such as vaginal dryness or insomnia can continue.
Most women have a general sense of where they are in the menopause cycle. However, being aware of the symptoms of menopause can also offer insights.
The Symptoms of Menopause
Do any of the following symptoms, provided by the National Institute on Aging, sound familiar?
A change in your periods: heavy bleeding, spotting, or periods coming closer together; a period that lasts a week, or disappears for months and then reappears.
Hot flashes: heat in the upper part or all your body.
Vaginal and bladder changes: a drier vagina, vaginal or bladder infections, or an inability to control your bladder.
Changes in your sleep pattern: not getting a good night's sleep, waking up too early or having trouble falling back asleep when you wake up.
Sexual changes: less interest in sex, or a new sense of freedom now that fear of pregnancy is behind you.
Mood changes: irritability, moodiness, depression and other mood swings.
Physiological changes: weight gain, muscle loss, a larger waist, memory problems, joint and muscle stiffness, thinner skin, facial hair and a deepening voice.
Menopause & Your Skin
The loss of estrogen is a key player in the changes to your skin during menopause. Typical changes in your skin during and after menopause, according to The International Dermal Institute, can include:
Oily skin and adult breakouts: With lowered levels of estrogen, testosterone takes the lead. It stimulates sebaceous glands that produce an oily secretion that gives the appearance of oily skin. That oily skin can also result in adult breakouts.
Facial hair: Without estrogen to temper androgens such as testosterone, you may notice new stray hairs on your chin.
Thinning skin: The second layer of your skin, called "the dermis," contains blood capillaries, nerve endings, sweat glands, hair follicles, and more. As estrogen levels decrease, this layer is deprived of valuable nutrients, oxygen and cell turnover, resulting in thinner, dryer skin.
Sagging skin and wrinkles: Supportive fat beneath the face, neck, hands and arms is redistributed during menopause. The result is sagging skin in those areas and, often, weight gain in the waist, thighs and buttocks.
Age spots: Estrogen tempers melanin production, critical to controlling skin when exposed to the sun. As it drops, age spots appear, often on the face, hands, neck, arms and chest.
More prone to sun damage: Cells that manufacture the pigment melanin are controlled by estrogen. When estrogen levels decrease so, too, does the skin's ability to control pigmentation. The result is more sensitivity to sun damage.
What's a gal to do when menopausal symptoms emerge? Take care of herself, of course.
5 Ways to Take Care for Your Skin During Menopause
You can't stop or reverse menopause. But what you can do is work with it and your skin's changing physiology.
No. 1: Stop the Breakouts
Breakouts can occur when estrogen levels recede but androgens stay constant.
Alpha hydroxyl acids (AHA) are also used to treat breakouts, and work by drying up blemishes. AHAs also cause the top layer of your skin to peel.
Use a gentle exfoliator that will also provide essential nutrients to the skin.
TRY: NuGlow® Therapeutic Cleanser or NuGlow® Triple-Action Resurfacing Peel
No. 2: Pamper Yourself with Peptides
Peptides are small proteins that help stimulate cells. They are critical to fighting the signs of aging and revitalizing skin as it becomes thinner and starts to sag. Additionally, peptides hydrate the skin and make lines less noticeable.
Always reach for skincare products that combine peptides with other proven anti-aging ingredients, such as copper or retinol.
No. 3: Soak Your Skin in Rich Cream
Many women experience dry skin in menopause. That's where a good, rich moisturizer comes in. Slather it on day and night, and whenever your skin gets thirsty for moisture.
TRY: Revitaleze Ultra Repair Body Cream
No. 4: Always Use a Sunblock
A study published in the Journal of Clinical Oncology showed that regular sunscreen use reduced the incidence of melanoma by 50-73%.
As skin becomes more susceptible to the sun's ultraviolet rays during menopause, sunscreen is critical. Thus, regardless of the season, whenever you go out in the sun, even to run to the store, wear sunblock.
Always.
No. 5: Eat like a Mediterranean
Researchers from the University of Queensland in Australia concluded that menopausal women who ate diets high in fruit, certain vegetables, pasta and red wine were 20% less likely to have hot flashes and night sweats.
Conversely, those who ate high-sugar, high-fat diets were 23% more likely to experience hot flashes and night sweats.
______________________________________________________________________
About the Author:
M. Carolyn Miller is a freelance writer who specializes in thought leadership blogs, feature articles, and more. Check out her website at www.cultureshape.com.
About NuGlow Skincare:
NuGlow is an affordable skincare line of high-quality anti-aging products sold directly to consumers. Our lead product line contains the patent-pending MD3 Copper® peptide complex, which delivers copper deep within the skin's surface, making it appear visibly fresher and firmer. Clinical study results* of NuGlow Serum show that women using MD3 Copper® experience significant improvement in their skin's appearance within weeks! NuGlow offers an unconditional 60-day guarantee, so give it a try! Order today at www.buynuglow.com.