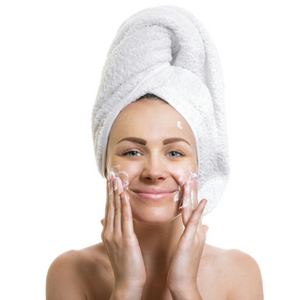 The NuGlow® Daily Routine in 5 Simple Steps
Why a Daily Skincare Routine is Important
A daily skincare routine is crucial if you want to keep your skin healthy and looking its best.
Many of us fail to give our skin the tender loving care it deserves because proper skincare takes time, dedication and effort. It also requires consistency to maintain results.  It's no different than any other aspect of a healthy lifestyle, whether it's maintaining weight, building strength, or boosting endurance.
But a great daily skincare routine doesn't have to be intimidating.  You can establish a regimen that's quick, simple and affordable if you're willing to take the time and make a commitment to your skin.
All you need is ten minutes a day for results that will amaze you! Five minutes in the morning and five minutes at night in five simple steps!  So, let's get started!
Determine Your Skin Type
First, it's important for you to know your skin type.  Not all skin is created equal and you should cater the products you use to address your specific skincare needs. Most skincare companies break down their product lines into three skin types:  Normal or Combination, Dry, Oily or Blemish-Prone.
If you're not sure which one you are, here's a quick breakdown:
Normal or Combination:  Normal skin is balanced – not too oily and not too dry – with standard size pores.  Normal skin will have minimal breakouts and will tend to be less sensitive. If you have an oily T-zone, that doesn't mean you should classify your skin as oily. It's still considered normal, so make sure you're choosing products for normal or combination skin.
Dry:  Dry skin is flaky, rough, or tight with smaller pores.  Dry skin is less elastic and tends to show lines and wrinkles more readily. When irritated, dry, sensitive skin can become itchy, inflamed and scaly.
Oily or Blemish-Prone:  Oily skin produces more oil than it needs, particularly on the cheeks, nose and forehead, and appears shiny. People with oily skin have larger pores and tend to be more susceptible to breakouts.
PRO TIP: If you have a skin type that's sensitive or problematic, it can be frustrating and difficult.  We all want immediate results, but even the best skincare treatments can take six to eight weeks to work & it's important to remain consistent with whatever treatment you choose.  Be patient & give the product time to work before trying another option. 
When you're choosing products, pay attention to whether the product is meant to treat a skincare concern rather than a specific skin type.  For example, sensitive skin isn't a skin type; it's a skin concern and refers to people whose skin reacts poorly to certain external factors or specific ingredients.  But that doesn't mean using products labeled "for sensitive skin" will alleviate your symptoms.  Skin sensitivity can be triggered by different causes, ranging from ingredients to using the wrong product to overdoing it.  And as far as ingredients go, what may affect you may not bother someone else, so using a product "for sensitive skin" is no guarantee that you won't react to it.
Now that you've identified which line of products is right for you and addresses your specific skin type or skincare concerns, let's discuss how to use it!
The NuGlow® Daily Skincare Routine
Step 1:  Cleanser
Any effective daily skincare routine begins with thoroughly cleansing the skin to remove makeup, sweat and dirt. Use a makeup remover, followed by a cleanser to effectively prepare the skin for serums and treatments.
PRO TIP:  Always start your routine by washing your hands so you don't transfer oil, dirt or bacteria to your face.
Remove makeup before cleansing to adequately dissolve long-wearing eyeliner and mascara. Be careful not to rub or tug at the delicate skin around your eyes when removing stubborn makeup.
Apply a small amount of makeup remover to cotton pad and cleanse forehead, chin and cheeks. Turn cotton pad over and cleanse eyelids and under eyes.  Wet face with lukewarm (not hot!) water, apply cleanser liberally and wash gently with a washcloth.
PRO TIP: Use a washcloth to help exfoliate and remove dead or flaky skin when you cleanse.  Washcloths are easier to keep clean, unlike facial sponges, which are susceptible to bacteria and other germs.
Gently pat your face dry with a clean towel that you only use on your face.
Step 2:  Toner
Apply a toner to balance the skin, and remove excess oils and additional dead skin cells, which may have been left behind after cleansing.  Using a toner helps prepare the skin so active ingredients can penetrate more deeply.
After cleansing, pour a small amount of toner on a cotton pad and apply it liberally to your face and neck.  Do not rinse it off!  Allow the skin to dry before applying serum.
PRO TIP: When layering product (serums, moisturizers, primers, foundations, etc.), make sure you let each one fully absorb into the skin before applying the next one, especially with silicone-based makeup.  Otherwise, the products may pill, ball up or flake off.
Step 3:  Serum
The next step in your skincare regimen is to apply a treatment serum.  Serums are generally water-based products full of actives ingredients that address specific skin care concerns, like breakouts or anti-aging.
PRO TIP: If you're new to using advanced skincare and start using a serum with active ingredients, it may take some time for your skin to adjust.  For the best results, we recommend that you alternate certain treatments as you introduce them into your daily skincare program. Great skincare isn't a sprint; it's a marathon, so start slow and work your way into it.  However, if irritation occurs, decrease how often you use the product or discontinue use until the skin is balanced.
Pump a small amount of serum in the palm of your hand.  With your fingertips, apply the serum to your face and neck with a sweeping motion, concentrating on your areas of concern.
PRO TIP:  If you have sensitive skin, wait 10-20 minutes after cleansing to allow pores to normalize before serum application.
Step 4:  Eye Cream
Eye cream protects the delicate, sensitive skin around your eyes and helps decrease puffiness, darkness, and dryness.  It will also help diminish the signs of aging by hydrating and plumping the skin.
Put a small amount of eye cream into the palm of your hand. With your ring finger, gently pat it around the bone area of your eye, gently blending it in using a small circular motion.
PRO TIP:  Gently blending product in a small circular motion helps improve circulation and reduce the appearance of dark circles.
Allow the eye cream to absorb fully before applying a moisturizer.
Step 5:  Moisturizer
Complete your regimen with a rich and emollient moisturizer to hydrate and protect the skin, even if you have oily skin.  Plump, moisturized skin keeps dirt, sweat and makeup out, meaning fewer breakouts.
PRO TIP: Always apply moisturizer last to lock in active ingredients and help products work more effectively!
Dot moisturizer lightly all over the face using your fingertips. Press the fingers of both hands into the center of the forehead and work the cream slowly outwards using circular motions. Then work the cream around the jaw line, chin and mouth. Gently massage the cream over the throat with alternating hands, using upwards strokes from collarbone to chin – your décolletage needs special care, too.
PRO TIP: Save time & don't let product go to waste!  Use the moisturizer left over from your facial application to treat your hands.  Hands are a dead giveaway of your age!
So, that's it!  A daily skincare routine in five easy steps. Once you get into the habit, it will go like clockwork. When you see the results, you'll wish you started sooner!
A Few Quick Words About Sun Protection
The best way to fight premature aging is to minimize the harmful effects of UV radiation from the sun! Period.
Use a broad-spectrum SPF daily.  If your daytime moisturizer doesn't contain SPF, then apply one separately afterward.
Remember to reapply sunscreen frequently during the day.  And if you don't want to mess up your makeup, then look at options such as translucent mineral powders that contain SPF.
You can also shield skin from the sun with hats & sunglasses for extra protection!
Want to learn more about how to take great care of your skin? Comment below and tell us what you're interested in learning!  Also, check out our Quick Tip series on social media, where we share great skincare advice each week.
______________________________________________________________________
About NuGlow Skincare:
NuGlow is an affordable skincare line of high-quality anti-aging products sold directly to consumers. Our lead product line contains the patent-pending MD3 Copper® peptide complex, which delivers copper deep within the skin's surface, making it appear visibly fresher and firmer. Clinical study results* of NuGlow Serum show that women using MD3 Copper® experience significant improvement in their skin's appearance within weeks! NuGlow offers an unconditional 60-day guarantee, so give it a try! Order today at www.buynuglow.com.