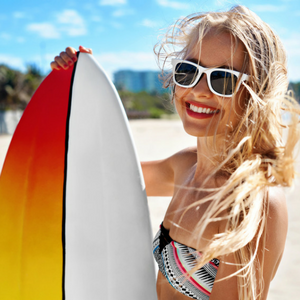 Protect Your Skin While Having Fun in the Sun During Spring Break
Spring Break is quickly approaching and you're probably headed to the beach or another warm destination to enjoy some down time with your family and friends! Vacations are the best, but they also can take a toll on your skin, especially when you're transitioning from dry winter conditions to heat, humidity and sun.
Learn how to prepare your skin for sudden changes in temperature and sun exposure with these simple steps to keep your skin looking healthy and gorgeous!
Feed Your Face to Prevent Sun Damage
Before your trip, start incorporating foods into your diet that have a high-water content and contain the antioxidant lycopene. Lycopene is a bright red pigment that helps prevent UV damage in the skin. It also helps protect skin from environmental toxins that can contribute breakouts. Lycopene is absorbed better in cooked tomatoes, especially tomato paste, but you can also find it in watermelon and grapefruit.
Foods high in beta carotene, vitamin C, and vitamin E also help skin build a natural defense against the sun's UV rays. Eat an orange, or cut up some carrots and bell peppers with hummus, as a healthy snack option that also protect against UV damage.
Prepare Your Skin for Vacation
It's also important to prepare your skin topically by exfoliating to clear up clogged pores and get rid of dead skin cells. Exfoliating your skin allows SPF to cover your skin evenly and protect it properly.
Leading up to your Spring Break trip, exfoliate at least twice a week using a physical or chemical exfoliator and a washcloth, which are a better option than facial sponges or loofahs because they're easier to keep clean.
TRY IT: NuGlow Skincare offers three great exfoliators to remove dull surface cells and prepare your skin for the application of an SPF: Microdermabrasion Polisher, Seaweed Exfoliating Soap, and Triple-Action Resurfacing Peel
While you want to keep you skin fresh and clean, don't go overboard! Scrubbing too much or using harsh products can aggravate skin & make breakouts worse. And no one wants that when they're heading out for an Instagram-worthy vacay!
Always Wear SPF, Period
Over time, the sun's ultraviolet rays can cause wrinkles and reduced elasticity. You should always wear sunscreen when you're outside on your Spring Break vacation, even when it's overcast.
If you're going to be out in the sun for longer than 15 minutes, use a sunscreen with at least SPF 15. Apply a generous amount 20-30 minutes before you head outside.
TRY IT:  Use NuGlow's Daytime Therapy with SPF 15 to moisturize and protect your skin at the same time!
Sunscreen does wear off, so make sure you reapply it about every two hours. Also make sure you reapply after swimming or any activity that makes you sweat.
Use a Double Duty SPF
When you're on Spring Break, you want to look your best, but you don't want to be constantly checking your makeup or setting it with powder. Plus, wearing a heavy foundation in the sun and heat can be miserable for you and your skin.
Instead, use make up that does double duty and gives you extra SPF protection. Try using a CC cream with SPF that offers great coverage with a flawless finish.
TRY IT: Use Supergoop! Daily Correct CC Cream with SPF35+ to protect your skin from UVA and UVB rays, and provide lightweight color correction
CC Creams and tinted moisturizers with SPF allow your natural beauty to shine through while keeping your skin protected from harsh UV rays.
Pamper Your Skin After A Day In The Sun
During Spring Break, your skin is going to be exposed to harsh conditions, including UV rays, chlorine and salt water.
So, when the day is done, give your skin the TLC it needs.
Shower as soon as you can after a day spent at the beach or partaking in your favorite Spring Break activity. Wash your skin with a gentle cleanser to remove sweat, oil and dirt, which can clog pores and lead to breakouts.
TRY IT: NuGlow Skincare's Pure & Simple Cleanser works as a facial cleanser, astringent & makeup remover in one. Use it as the perfect hydrating cleanser for sensitive, irritated skin.
Then apply a soothing mask with ingredients like aloe vera or allantoin to help relieve, repair and hydrate your skin.
TRY IT: Use NuGlow Skincare's Soothing Gel Mask to comfort and hydrate your skin with a high potency blend of panthenol, sea whip and allantoin. This calming mask provides relief to visibly stressed skin. It also works great on sunburn.
Apply a moisturizer with SPF afterwards to avoid further sun damage.
Reduce Stress for Clearer Skin
Relaxxxx. Sometimes we can get caught up in stressing about every little detail of our vacation. After all, we want to have the perfect time while we're away on Spring Break.
But, stress can wreak havoc on your skin and manifest itself as blemishes, hives, rashes, fever blisters and premature aging.
So, stop sweating the small stuff and take this time away to enjoy yourself. Laugh and have fun doing the things you love. And most importantly, be present and make the most out of this time with the people you love. This is the perfect opportunity to make some amazing memories with your family and friends!
Want to learn more about how to care for your skin in the sun? Check out our previous blog post on 7 Ways to Avoid Sun Damage!
______________________________________________________________________
About NuGlow Skincare:
NuGlow is an affordable skincare line of high-quality anti-aging products sold directly to consumers. Our lead product line contains the patent-pending MD3 Copper® peptide complex, which delivers copper deep within the skin's surface, making it appear visibly fresher and firmer. Clinical study results* of NuGlow Serum show that women using MD3 Copper® experience significant improvement in their skin's appearance within weeks! NuGlow offers an unconditional 60-day guarantee, so give it a try! Order today at www.buynuglow.com.