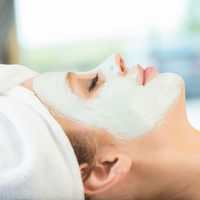 Keep Skin Glowing With An At-Home Facial
You've worked really hard to live a healthy life beautifully and establish a daily skincare routine. But, life gets complicated and there are moments when it's difficult to stick to your regimen.
Remember that one night you were so exhausted you fell asleep in your makeup? We've all been there, but your skin pays the price and everyone can see it on your face.
Some days, you need an intensive treatment that makes you feel great and gives your skin a little boost.
Treat yourself to a relaxing at-home facial without spending a fortune at the spa. It's a great, inexpensive way to refresh, renew and revitalize your skin! Plus, a weekly facial will help your daily skincare treatments work more effectively.
So, let's get started with these five easy steps. You deserve it and so does your skin!
Create Your Own Spa at Home
Customize your "me" time and create a little oasis in your bathroom. Turn on relaxing music, light some aromatherapy candles, and sip on a fruit-infused water or glass of wine.
Get comfortable. Remove jewelry. Slip into your favorite robe. Pull back your hair with a headband or ponytail holder so your face if fully exposed. Take some deep breaths and relax.
Start Your Facial With Clean, Clear Skin
Wash your skin thoroughly to remove makeup, sweat, dirt and oil.
Pro Tip:  Wash your hands first so you don't transfer oil, dirt or bacteria to your face.
Apply a small amount of makeup remover to cotton pad and cleanse forehead, chin and cheeks. Turn the cotton pad over and cleanse eyelids and under eyes. Wet your face with lukewarm (not hot!) water, apply cleanser liberally and wash gently.
Exfoliate To Prepare Your Skin For The Mask
Next, exfoliate to remove dead skin and maximize the effectiveness of the mask.
Apply a small amount of the exfoliant to clean, damp skin using a circular motion.
Gently scrub with a washcloth for 1-2 minutes.
Pro Tip: Washcloths help exfoliate the skin, and they're a better option than facial sponges or loofahs because they're easier to keep clean.
Rinse your skin thoroughly with warm water.
Pro Tip: Don't go overboard! Over cleansing, scrubbing or using harsh products can aggravate skin & make conditions, like blemishes, worse.
Apply Your Mask of Choice
It's important for you to determine ahead of time what type of mask you're going to use.
Not all skin is created equal and you should use products that address your specific skincare needs. So, weigh your options carefully and determine which mask you'll use based on your skin type and the result you want to achieve.
If you're looking for a deep cleanse or battling a breakout, use a clay mask that will purify & detox your skin.
Try It:  NuGlow® Detox Plus Mask
On the other hand, if you're looking to revive dry, dull skin, use a hydrating mask.
Try It:  NuGlow® Soothing Gel Mask
You may also want to alternate both type of masks weekly. Cell turnover & proper hydration both help combat the signs of aging and contribute to a more youthful appearance.
To use, smooth a liberal amount of the mask onto clean, dry skin. Let it set for approximately 10-15 minutes. Keep in mind that not all masks will dry.
While you wait for the mask to do its job, relax and soothe your eyes with cucumber slices or a cold compress.
To remove the mask, wash your face gently with warm water and a washcloth. Rinse thoroughly and gently pat your face dry with a clean towel that you only use on your face.
Complete Your Normal Skincare Regimen
Once you've properly removed the mask, complete your normal skincare regimen.
Try It:  NuGlow® 5-Piece Anti-Aging Kit
Apply a toner to balance the skin and allow active ingredients to penetrate more deeply. Pour a small amount of toner on a cotton pad and apply it liberally to your face and neck. Do not rinse it off!
Pro Tip:  When layering products, let each one fully absorb into the skin before applying the next one.
The next step in your skincare regimen is to apply your treatment serum of choice. Pump a small amount of serum in the palm of your hand. With your fingertips, apply the serum to your face and neck with a sweeping motion, concentrating on your areas of concern.
Pro Tip: If you have sensitive skin, wait 10-20 minutes after removing the mask to allow pores to normalize before serum application.
The delicate, sensitive skin around your eye is extremely important. Apply an eye cream to help decrease puffiness, darkness, and dryness. It will also help diminish the signs of aging by hydrating and plumping the skin. Put a small amount of eye cream into the palm of your hand. With your ring finger, gently pat it around the bone area of your eye, gently blending it in using a small circular motion.
Pro Tip: Gently blending product in a small circular motion helps improve circulation and reduce the appearance of dark circles.
Lastly, complete your regimen with a moisturizer to hydrate and protect the skin, even if you have oily skin. Plump, moisturized skin keeps dirt, sweat and makeup out, meaning fewer breakouts. Plus, applying moisturizer last locks in active ingredients and helps your product work more effectively.
So, that's it!  Five easy steps.
Facial Aftercare & Sun Protection
Reap the full benefits of your facial by waiting 10-12 hours before applying makeup. Drink plenty of water to keep skin hydrated. Also, avoid excessive sun exposure and wear sunscreen with at least SPF 15 when you go outside.
Read more about 7 Ways to Prevent Sun Damage
Give these facial tips a try at home and tell us about your experience in the comments section below!
______________________________________________________________________
About NuGlow Skincare:
NuGlow is an affordable skincare line of high-quality anti-aging products sold directly to consumers. Our lead product line contains the patent-pending MD3 Copper® peptide complex, which delivers copper deep within the skin's surface, making it appear visibly fresher and firmer. Clinical study results* of NuGlow Serum show that women using MD3 Copper® experience significant improvement in their skin's appearance within weeks! NuGlow offers an unconditional 60-day guarantee, so give it a try! Order today at www.buynuglow.com.