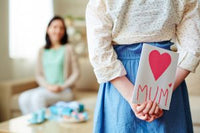 4 Ways to Pamper Yourself This Mother's Day
By Pam Moore
What if I told you your Mother's Day celebration doesn't have to be brunch at a crowded restaurant with your family? I'm not saying there's anything wrong with eggs Benedict, a chance to drink your coffee while it's hot, or indulging in a mimosa with fresh-squeezed orange juice. And there's nothing wrong with spending quality time in a restaurant with your family (or maybe there's a lot wrong with that, depending on the ages and temperaments of your kids). As a mom, you're thinking of other people constantly. Why not use Mother's Day to pamper yourself for a change?
According to Merriam-Webster, pamper means, "to treat with extreme or excessive care and attention." What would you do if you had a whole day to indulge in whatever you wanted—without worrying about what anyone else wanted? It's mind-boggling, I know. Here are some ideas to help you plan your day.
Get Moving
Not having enough time is one of the top ten reasons people cite for not exercising. But what if you had ample time to devote to yourself, without the pressures of family, work, and the never-ending piles of laundry. You'd have time to exercise, enjoy a long, hot shower, and even blow out your hair afterward.
Exercise doesn't have to be a punishing sweat-fest, nor does it have to be done regularly to make you feel good. Research shows that moderate exercise can make you noticeably happier and more relaxed—immediately. Just spending time outside has benefits ranging from better sleep to improved mood.
If you're not a regular exerciser—or if you're a hardcore fitness buff who could stand to step back from an intense regimen—consider the following lower intensity activities:
Go for a walk or a hike
Paddle in a canoe
Explore your city by bike
Check out a yoga class
If you are a fitness junkie who enjoys pushing your body's limits, Mother's Day is just as good a day as any to get out of your comfort zone. You could:
Try aerial yoga, hot yoga, or any type of yoga you've never done before
Sign up for a CrossFit competition
Seek out a monster hill, and run or ride your bike up it
Rejuvenate
Mother's Day is the perfect day to leave the pampering to a professional. If you feel like you're constantly moving, take time to slow down. Or maybe even lie down. You could indulge in:
a manicure and/or pedicure
a massage
a facial
a haircut, color or a blow out
an acupuncture or reiki session
Learn Something New
If your family wants to give you something, remember that a gift doesn't necessarily have to come in a package. One of the best gifts I've ever received was a spot in a writing workshop.
You can nurture your mind this Mother's Day by taking a class. You could advance your skills in an area with which you're already comfortable, or you could learn something entirely new. Consider taking a class in:
Sewing
Pottery
Photography
A musical instrument
Dance
Spanish
Cooking
Car maintenance
Acting
Coding
Astronomy
… or any other thing you've been meaning to try.
Take Yourself on a Date
Mother's Day is an opportunity to plan the perfect date—for yourself. You don't have to worry about what anyone else wants. Go where you want to go, eat what you'd like to eat, and do what you want to do.
It could be as simple as taking a long bath at home with a candle, a magazine, and a cup of tea. Maybe your dream date is a long walk with your favorite podcast or your best friend. Maybe it's ice cream with your kids, your partner, and your mom or your mother-in-law. It doesn't matter what it is, as long as it's what you want.
Other "date" ideas you might want to try:
Hitting a coffee shop with a good book
Going on a meditation retreat for a day or overnight
Taking a trip to the mall
Sleeping in
Seeing a movie
Lingering at a bookstore or the library
Happy Hour on the patio of your favorite restaurant
Attending a local production or show with your mom, daughter, or best mom friends
When I think of pampering, I tend to imagine a fancy spa with expensive, plush bathrobes and glasses of high-end champagne. But it's important to remember that pampering—treating with excessive care and attention—can mean different things, and they don't necessarily have to cost a lot of money.
This Mother's Day ask yourself, what would feel good to me right now? The flight attendant's instructions to put on our own oxygen masks before assisting others in the event of an emergency applies to moms, too. We are better at work, at home, and wherever we are, when we nurture ourselves first—on Mother's Day and every day.
Want to learn more about how to live a healthy life beautifully?  Comment below and let us know what you're interested in discussing!
______________________________________________________________________
About the Author:
Pam Moore is a running coach, freelance writer, and a speaker, living in Boulder, Colorado with her husband and two young kids. The author of "There's No Room For Fear in a Burley Trailer," she dreams of completing her To Do list, qualifying for the Boston Marathon, and sleeping in. Follow her adventures at her blog, Whatevs…. , or connect with her on Instagram, Facebook, or Twitter.
About NuGlow Skincare:
NuGlow is an affordable skincare line of high-quality anti-aging products sold directly to consumers. Our lead product line contains the patent-pending MD3 Copper® peptide complex, which delivers copper deep within the skin's surface, making it appear visibly fresher and firmer. Clinical study results* of NuGlow Serum show that women using MD3 Copper® experience significant improvement in their skin's appearance within weeks! NuGlow offers an unconditional 60-day guarantee, so give it a try! Order today at www.buynuglow.com.