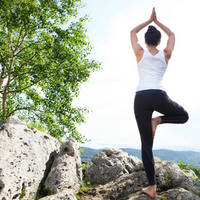 Keep Skin Healthy With Outdoor Workouts This Summer
One of the secrets to having gorgeous, supple skin at any age is fitness.
Over time, we build up a lot of impurities through the air we breathe, the food we eat and the beverages we drink. Getting rid of those toxins through exercise and sweat makes our bodies healthier and perform better from season to season.
Summer is the perfect time to shake up your fitness routine by trying new forms of exercise! So, break free from the gym and head outside for fresh air fitness.
Check out these five outdoor workouts to help you get moving!
Slim Down in a Splash
Water aerobics is a great cardiovascular workout for every age and fitness level. This low-impact workout targets large muscle groups and is easy on the joints. One hour of swimming burns about 600 to 700 calories and improves endurance, strength and coordination.
Don't forget to focus on your abdominal muscles during your outdoor workouts. Engaging your core will help you burn more calories, strengthen your core and help prevent back injuries.
KNOW BEFORE YOU GO: While swimming as a form of exercise offers many health benefits, the chlorine, salt and other chemicals can be very harsh on your skin and hair. Frequent exposure to chlorine can lead to dry, irritated skin and fragile, discolored hair.
To minimize chlorine damage, take a shower before and after you swim. Always rinse your hair in cool water before entering the swimming pool to reduce chlorine absorption. Then coat it with conditioner before putting a swim cap on. This helps to repel water and keep the hair sealed in. After your swim, use a chlorine-neutralizing soap and shampoo.
Workout in the Wilderness
Leave the treadmill behind and gear up for a hike! An hour trek on an incline can have you burning over 350 calories while toning your muscles.
A hike in nature can also improve your mood, clear your head and reduce anxiety.
So, seek out your favorite park, mountain or nearby trail, but remember to never hike alone. Instead, organize a group of friends, or make your next trek with the kids and show them that being fit can be adventurous!
Don't forget essentials like water, snacks, a compass and extra sunscreen for your trek, and always wear a sturdy pair of hiking shoes as you'll come across debris and uneven surfaces.
KNOW BEFORE YOU GO: Apply sunscreen first before applying insect repellent. To keep pesky bugs away, avoid wearing perfumes, colognes and body sprays. Wash your skin and clothing at the end of the day to remove any unwanted chemicals.
Cut Calories on the Court
Whether you play competitively, for your health, or just for fun, tennis works your upper body, lower body and core while building stamina. Along with improving agility and flexibility, tennis can also help enhance fine motor skills, or hand-eye coordination.
Incorporate dynamic and static stretches into your outdoor workouts to avoid injury.
KNOW BEFORE YOU GO: Play in the early morning or late afternoon to avoid peak UV exposure and opt for courts in the shade. Wear a sun visor or cap to protect your face, and sport-specific sunglasses to protect your eyes. Create a barrier from the sun with lightweight, loose-fitting clothing. This helps sweat evaporate and keeps you cooler. Avoid dark colors, which can absorb heat.
Bump, Set, Sweat
For a fun, full-body outdoor workout, try beach volleyball! Find a pick up league at your local park based on your skill level and meet new people. With all the quick sprints, jumping and diving, you'll burn quite a few calories and forget you're even working out as you ace another serve.
Sand is a natural exfoliant, which can be great for skin, but after jumping and diving in it all afternoon, it may become too abrasive, causing redness and irritation.  Make sure you have a great moisturizer on hand and use it often to hydrate and protect your skin!
KNOW BEFORE YOU GO: If you're a beginner, you're going to want to get your body adjusted to moving in the sand. Try jogging in the sand for 20 minutes and practicing block jumps to become more efficient. Don't forget to take note of which way the wind is blowing, too!
Take Your Om Outside
Summer is the perfect time to skip the studio and reconnect your body and mind outside. Head to the beach, park or your backyard to decrease stress and improve balance.
While you may feel awkward at first, doing yoga outside lets you take in beautiful scenery and become more present in your meditation practice.
KNOW BEFORE YOU GO: Leave your mat at home. You will most likely be on rough, dirty or uneven outdoor surfaces. Instead, take a blanket or old towel and embrace the earth beneath your feet!
Final Thoughts on Outdoor Workouts
With each workout, drink plenty of water to stay hydrated – at least one full water bottle – before, during and after you session. If you feel thirsty, then you're probably already dehydrated. It's important to replace fluids that were lost from sweat to maintain your glowing skin.
Always wash your face with a gentle cleanser after your outdoor workouts to remove dirt, sweat and bacteria, and hydrate with a serum and moisturizer.
Carry your own clean towels in a  gym bag and toss in some cleansing face wipes to remove makeup if you're on-the-go.
We challenge you to live a healthy life beautifully by trying something different, meeting new people and doing something good for your body and mind!
______________________________________________________________________
About NuGlow Skincare:
NuGlow is an affordable skincare line of high-quality anti-aging products sold directly to consumers. Our lead product line contains the patent-pending MD3 Copper® peptide complex, which delivers copper deep within the skin's surface, making it appear visibly fresher and firmer. Clinical study results* of NuGlow Serum show that women using MD3 Copper® experience significant improvement in their skin's appearance within weeks! NuGlow offers an unconditional 60-day guarantee, so give it a try! Order today at www.buynuglow.com.