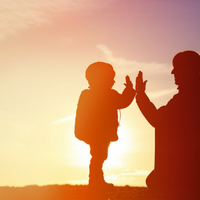 Opt Outside this Memorial Day Weekend & Hike With Your Kids
By Pam Moore
Memorial Day marks the start of summer, which means longer days, spending more time with your kids, and counting down the days until school starts.
Next weekend will be full of opportunities to watch parades, eat barbecue or go swimming. But why not take this opportunity to get active outdoors and share a new experience with your kids? Take a hike and explore where you live!
You may be thinking that embarking on a family hike looks more like a meandering walk that happens to be on a dirt path. But that doesn't mean hiking with your little ones can't be enjoyable.
Before you lace up your kids' hiking boots this summer, keep the following tips in mind. 
Keep Expectations Low

If you've taken kids anywhere, ever, you're familiar with this concept. Be real about what you expect to accomplish. It's much better to set the bar low and be pleasantly surprised than to be disappointed when expectations aren't met.
Forget about reaching a specific landmark or hitting a certain mileage. Focus instead on the intangibles, like whether your kids are having fun and want to return to the trail next weekend.
It doesn't matter if they spend most of the time taking breaks to stand or even to lie in the middle of the trail (as long as they're not interfering with other hikers). They might stop to comment on every pine cone or to touch every moss-covered boulder. That's ok.
If it's a workout you seek, leave the kids in childcare at your gym and hit the Stairmaster on your own.
Fuel Up
If you've ever had the misfortune of witnessing your child's body being seized by the devil himself, only to realize it's been hours since she ate … I don't have to tell you to remember the snacks.
On a hike, don't worry about packing anything complicated. Bring fruit snacks (the gross ones that get stuck in your molars), their favorite granola bars, or Veggie Sticks (say what you will; they're just potato chips masquerading as a health food)…whatever motivates your kids to walk a few more steps, to make it to the crest of the next hill, to stop hitting their little sister, and keep moving.
Timing Is Everything
Plan to optimize your chances of having a good time. If your kids are like mine, they're up and ready to rock before the crack of dawn. In that case, head out first thing. If your kids are not morning people… I'm seriously jealous.
Also, consider the rest of your kids' day. If you've taken them to a swim lesson in the morning, a birthday party over lunch, and your hike is scheduled just before dinner, consider rescheduling. A tired, overstimulated kid is not a kid you want to take on the trail. (If you do, you just might be tempted to leave him there. Just kidding. Sort of.)
Always Wear Sun Protection
The last thing you want is for a kid's memory of a family hike to be overshadowed by a painful sunburn she got on the trail.
It may be shady where you're going, but according to the Skin Cancer Foundation, the sun's most damaging rays can still penetrate the shade. Also, be wary of high altitude or being out during peak exposure hours (10am to 4pm), both of which increase the harmful effects of the sun's rays.
As for getting the sunblock on your child's skin, I wish I had some sage advice. I do know if you must use force or an iPad to get them to hold still while you apply it to their cherubic little faces, you aren't alone.
Lead By Example

If your child isn't excited to hike, ask yourself how you feel about hiking.
Do you wish you could go back to your pre-kids days, charge up a challenging trail, and finish the day at a brewery, without so much as a glance at the kids' menu? (We all feel this way sometimes.) Are you resentful because you'd rather hit the neighborhood pool, and the hike was a "fun" idea your partner cooked up? (Welcome to marriage.) Are you anxious about whether your kid will have fun or scared he'll run away?
For better or for worse, kids have a way of picking up on our vibes.
As you pack your backpack, toss your negativity along with the old granola bar wrappers and used tissues you'll inevitably find tucked at the bottom.
Have Fun

Stop to smell the flowers. My daughter insists that every flower she sniffs smells like roses. (I don't have the heart to tell her otherwise.) Pause to hug a tree. My daughter thinks they smell like vanilla. (Here in Colorado, many of them actually do).
If your child wants to squat down for a while to study a rock, let him. If you have a toddler, you won't have much choice, unless you plan to carry your kiddo away. Or create a contest. Who can be the first to spot a bird? Have the whole family hunt for things that are round, search for green items, or collect smooth items.
Fun is what keeps kids – and grown-ups – engaged and wanting to come back for more.
Hiking can be an experience the whole family can enjoy together. Just plan and manage your expectations. Then again, you can do everything right and your perfectly planned outing could still fall apart. That, my friends, is called being a parent. You may not be able to hit your favorite brewery's patio, but you can crack open a beer in your backyard once the kids are tucked in for the night. Enjoy it while the crickets chirp and the night sky reveals the stars. You deserve it.
Want to learn more about how to live a healthy life beautifully?  Comment below and let us know what you're interested in discussing!
______________________________________________________________________
About the Author:
Pam Moore is a running coach, freelance writer, and a speaker, living in Boulder, Colorado with her husband and two young kids. The author of "There's No Room For Fear in a Burley Trailer," she dreams of completing her To Do list, qualifying for the Boston Marathon, and sleeping in. Follow her adventures at her blog, Whatevs…. , or connect with her on Instagram, Facebook, or Twitter.
About NuGlow Skincare:
NuGlow is an affordable skincare line of high-quality anti-aging products sold directly to consumers. Our lead product line contains the patent-pending MD3 Copper® peptide complex, which delivers copper deep within the skin's surface, making it appear visibly fresher and firmer. Clinical study results* of NuGlow Serum show that women using MD3 Copper® experience significant improvement in their skin's appearance within weeks! NuGlow offers an unconditional 60-day guarantee, so give it a try! Order today at www.buynuglow.com.