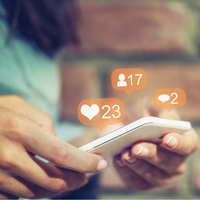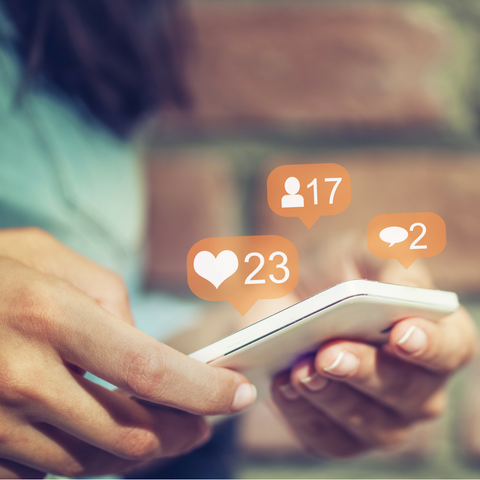 Become Social Media Savvy with these 5 Top Tips
Social media is everywhere these days. Almost everyone is using it - whether it's a company, your mother, your kids, or even your dog.
It's become extremely popular because it gives people a way to make meaningful connections, express themselves, and share their passion and story with the world. It's also a valuable resource, from which you can learn about almost anything.
Social media gives us the opportunity to empathize with others, stumble across a new recipe, restaurant or product, support someone who's trying to change their life for the better and discover new ways of doing things. 
So, start connecting with your tribe or build your following using these top 5 tips for every social platform.
Be Yourself
Post about things that make you happy - your interests, your family, your pets - whatever it may be. Your friends and followers want to see you for who you are, not just a highlight reel of your life.
Be real, be raw, and be you!
Social media is meant as an avenue to express yourself and keep you connected to family and friends. It's not about competition or comparing yourself to someone else. It's about sharing and celebrating the authentic you, even when life isn't rosy. You may find the support or solution your need for the situation you're going through. And, in turn, you may help or inspire others. 
Follow People & Topics You Find Interesting
Start by following the accounts of people you care about. Then add people who share content about topics you find interesting - maybe it's your favorite celebrity, fitness guru, magazine, art gallery or city. 
Pro Tip: Follow and interact with your favorite brands. Often, they'll post deals, discounts, and promotions that you might not always find in stores or on their website! *wink wink* Follow us @nuglowskincare on Instagram or like us on Facebook at NuGlow Skincare.
If you're interested in growing your following, there's a lot of advice on the internet about how to do that, but don't get caught up in the numbers or engaging in practices like "follow for follow."
Instead, focus on making connections with real people, and building relationships with your tribe. If you do, you'll find social media to be a much more fulfilling experience. And the numbers will eventually follow.
Use Hashtags to Find People & Content
Hashtags are a great way to find new accounts and share your content with people who aren't following you yet! 
A hashtag, used mostly on Instagram and Twitter, is a # symbol followed by a keyword or phrase (no spaces!) that allows a social media user to find content about a specific topic. Hashtags can be placed in the caption or a comment. 
For example, if you post a picture of your favorite summer salad - cucumber, tomato, onion & mint mixed with a lemon vinaigrette - you could tell people the story about the first time you had it, explain how you make it, or ask followers to tell you about their favorite summer salad! 
Then include hashtags about ingredients (#cucumber, #applecider), the topic (#summersalad), the category (#easyrecipes) as well as any other hashtags - such as location, events, etc. (#memorialday #familycookout #picnic) - that are relevant or would help other people find your post with this amazing recipe!
You can also search google for "day of week" hashtags for your post, like #saladsaturday. Popular ones include #motivationmonday, #transformationtuesday, #wellnesswednesday, #throwbackthursday, #friyay, #caturday, #sundayfunday, plus many, many more!
In addition, search a hashtag, like #cleaneating or #healthyliving, and interact with other people who also love cooking healthy foods and use that hashtag. 
Post Great Content
While a lot of people simply post about their day-to-day lives, others create an account to post about specific topics - fitness, food, fashion, children, animals, travel, a creative passion. Having a focus or theme can also help you figure what you're going to post about!
Once you decide what you want to share with the world, start posting! 
Try to post once a day or every other day to stay in touch with your following and keep them interested in your profile. Make sure you're posting meaningful pictures and captions, and not just posting to post.
Pro Tip: Raise the quality of your posts by using photo apps like SnapSeed and video apps like Boomerang or Videoshop. One of our favorite apps is the free graphic design tool Canva - it's a complete game changer for your social media feed.
Not sure where to start? Try some of these posts. 
Favorite product or service
Quotes that inspire or motivate you
Ask a question for your followers to answer
An outfit that you love
A special event or holiday
Favorite recipe
Life hacks you've discovered
The perfect selfie (Learn how to take one by clicking here!)
Periodically, you should also clean up your social feeds by deleting or archiving posts, and reviewing what accounts you're following. Take a few minutes each month to go through your posts and lists. You want to curate the best content and eliminate anything that's no longer relevant to you or your interests, so you can focus your feed on the people and topics that mean the most to you.
Interact on a Regular Basis
Social media is about building relationships. So, make sure you interact with the accounts you're following! Like, comment, save and share content that you love. 
It can be easy to get sucked into the social media vortex for hours, so set aside some time each day that you check your feed, like posts and write or respond to comments. A good place to start is 20 likes and 10 comments every day. 
When you comment, always make it heartfelt and personal. Start a conversation. Ask a question. Engage in a meaningful way with the people you find interesting! 
Consistency is key here! The more you interact on a regular basis with your followers, the more they'll interact with you! 
And that's how you create an amazing and engaging social media community.
Just remember to put your phone down every once in a while and enjoy the time you spend with your family and friends. 
______________________________________________________________________
About NuGlow Skincare:
NuGlow is an affordable skincare line of high-quality anti-aging products sold directly to consumers. Our lead product line contains the patent-pending MD3 Copper® peptide complex, which delivers copper deep within the skin's surface, making it appear visibly fresher and firmer. Clinical study results* of NuGlow Serum show that women using MD3 Copper® experience significant improvement in their skin's appearance within weeks! NuGlow offers an unconditional 60-day guarantee, so give it a try! Order today at www.buynuglow.com.