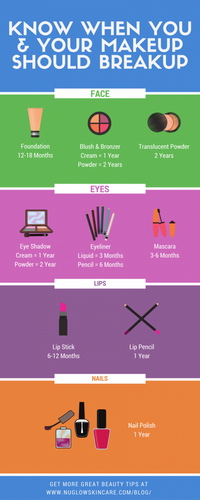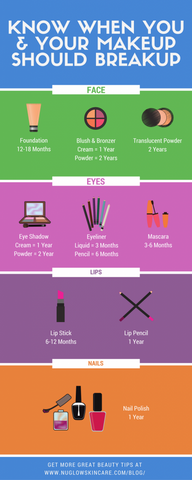 Beauty Products Eventually Go Bad And Take A Toll On Your Skin
Start the new year by getting rid of what you don't need so you can focus on making this the best year yet.  In Look Fresh, Feel Better: Drop the Clutter This New Year, thought leadership blogger Carolyn Miller talked about how you can reduce stress and have clearer skin by decluttering your home.
As you develop a strategy to get rid of clutter and begin the year with a clean slate, start by looking inside your makeup cabinet!
Ladies, Stop Hoarding Your Beauty Products
Makeup and skincare can be an investment, which means you're more likely to hold onto it, even when you shouldn't. Stop saving old, expired makeup. It isn't good for your skin.
Beauty products, like anything else, have a shelf life. Over time, they spoil, and with continued use, your products are exposed to germs and other environmental yuckiness. Using bad or contaminated products on your skin can lead to breakouts and rashes. In addition, as products deteriorate, they break down and work less efficiently, meaning they don't look as good when you use them.
So, toss expired products that you don't use anymore and replace the ones that you do.
When To Toss Out That Old Expired Makeup
Not sure how often to replace your products?  Here's an infographic of the most commonly used products and when you should replace them!
Generally, if it's liquid or contains water, get rid of it after three to six months.  If it's powder, you can keep it up to a year.
Also, use common sense.  If the product smell or looks funky, you probably shouldn't use it.  Always err on the side of caution and replace it.
A Quick Asterisk About Natural Products
If you use products labeled as "natural," ask the manufacturer about their product's shelf life specifically.
Per the Food & Drug Administration (FDA), "natural" products have "an unusually short shelf life" because they may contain plant-derived ingredients that are more susceptible to the bacteria growth.
Many "natural" products don't contain preservatives and if they do, natural preservatives aren't as strong as synthetic ones, so the product's life cycle is shorter.
Plus, there's no way for you to know how "natural" the product is because the FDA "has not defined the term 'natural' and has not established a regulatory definition for this term in cosmetic labeling." So, the term isn't applied consistently from company to company.
Other Ways to Keep Makeup Sanitary & Extend Its Lifecycle
Every time you touch your makeup with your finger or dip your brushes and then touch your face, you transfer oil, dirt and germs. Always wash your hands and face and dry them with a clean towel before applying your makeup.
Then, apply and blend makeup with a foundation brush instead of a sponge, which is more susceptible to germs and more difficult to keep clean.
Sanitize makeup (even your powders) and brushes with a spray bottle filled with rubbing (isopropyl) alcohol or a disinfecting makeup spray.
Clean your brushes properly after each use, or weekly at least, to make them last longer and to reduce breakouts. Put a small amount (about the size of a dime) of very gentle soap or baby shampoo in the palm of your hand. Swirl the brush around until it lathers. Rinse and repeat until the suds and then water runs clean. Rinse your brush thoroughly. Squeeze out any excess water using a clean towel. Air dry your brushes by hanging them upside down on a towel rack using hair ties.  (There are tons of great YouTube videos showing you how to do it!)
Also, clean you pencil sharpener after each use by rinsing it with rubbing alcohol.
Start a Fresh New Look This Year
We get that it's hard to let go of your beauty products without using every drop, squeeze or shard of color, especially if it's a color your love or a product that's no longer available. Makeup and skincare can be expensive, but using spoiled or expired products isn't worth the toll it takes on the health of your skin. Start the new year by getting rid of what you don't need, streamline your beauty routine, and replace your products with a fresh look for 2017!
Need Some Makeup Recommendations?
Check out our two-part makeup series by Beauty Shaman Suzanne Blons, where she talks about how to use makeup to enhance your natural beauty so you can look fabulous while doing the things you love.
Want to learn more about how to live a life beautifully? NuGlow® can help! Comment below and tell us what you want to know or the issues you're struggling to overcome in your skincare routine!
______________________________________________________________________
About NuGlow Skincare:
NuGlow is an affordable skincare line of high-quality anti-aging products sold directly to consumers. Our lead product line contains the patent-pending MD3 Copper® peptide complex, which delivers copper deep within the skin's surface, making it appear visibly fresher and firmer. Clinical study results* of NuGlow Serum show that women using MD3 Copper® experience significant improvement in their skin's appearance within weeks! NuGlow offers an unconditional 60-day guarantee, so give it a try! Order today at www.buynuglow.com.